Toyota Camry SV21 Free Downloadable PDF Repair Manuals & Service Manuals
Model Years: 1988 to 1991
Chassis Code: SV21

In 1987, Toyota Australia began producing these second-generation Camrys in Port Melbourne, Victoria... View More Info 1 Workshop Manual Available (See Below)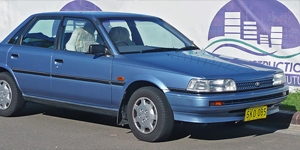 Toyota Camry SV21 Factory Workshop Manual
Factory Service Manual for Toyota Camry SV21 models. Contains specifications, repair and maintenance information.
Toyota Camry Vehicle Information
In 1987, Toyota Australia began producing these second-generation Camrys in Port Melbourne, Victoria. In fact, it was the first Camry ever made outside of Japan.
A 1.8-liter four-cylinder engine rated at 64 kilowatts (86 hp) was standard on the base model, while a twin-cam, multi-valve 2.0-liter straight-four engine and five-speed manual transmission was available on all others.
A four-speed overdrive automatic was made optional. All models bar the Ultima had a two-barrel carburettor version of the engine (3S-FC) the Ultima featured an electronic fuel-injected (EFI) version of the same (3S-FE).
The base engine produced 82 kilowatts (110 hp) and 166 newton metres (122 lb/ft) of torque, with 88 kilowatts (118 hp) and 171 newton metres (126 ft/lb) for the EFI version. In 1988, a 2.5-liter V6 was introduced. The V6 sat the very top of the range, and was the only model to be imported from Japan.
Due to its positioning in the line-up, and the high import duty it attracted, it was very expensive (almost $30,000 AUD), and only sold in small numbers. In 1989, the 1.8-liter engine was dropped, and was replaced with the 2.0-liter carburettor engine, until early 1991, when the EFI version of was made standard. This was the result of the introduction of more stringent emission standards in Australia.
Source:
Wikipedia