Ford Escort Cosworth RS Repair Manuals & Service Manuals
Model Years: 1992 to 1996
Chassis Code: RS

The Ford Escort RS Cosworth was a sports derivative of the Ford Escort. It was designed to qualify a... View More Info 1 Workshop Manual Available (See Below)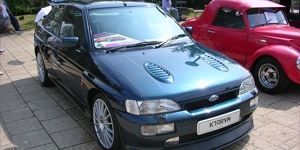 Ford Escort RS Cosworth Factory Service Manual
Factory Service Manual for Escort RS Cosworth, contains all specifications, repair and maintenance information. Also covers Sierra RS Cosworth model.
Ford Escort Cosworth Vehicle Information
The Ford Escort RS Cosworth was a sports derivative of the Ford Escort. It was designed to qualify as a Group A car for the World Rally Championship, in which it competed between 1993 and 1998. It was available as a road car from 1992-96 in very limited numbers.
It was instantly recognisable due to its large "whale tail" rear spoiler. The main selling point was the Cosworth YBT engine, a highly tunable turbocharged 2-litre engine which had an output of 220 PS (162 kW; 217 hp) in standard trim. It was also widely acknowledged to have excellent handling.
Ford developed the car around the chassis and mechanicals of its predecessor, the Sierra Cosworth to accommodate the larger Cosworth engine and transmission, whilst clothing it in Escort body panels to make it resemble the standard Mk V. Designed under the guidance of Rod Mansfield and John Wheeler of Ford's SVO department, the styling was carried out during 1989, by Stephen Harper at MGA Developments in Coventry. The body tooling was created by coachbuilders Karmann at their facility in Rheine, Germany, where the cars were manufactured.
Changes were made to the engine management system and a new turbocharger was fitted. Permanent four wheel drive with a 34/66% front/rear split came courtesy of an uprated five speed gearbox as used in the Sierra Cosworth.
Source:
Wikipedia