Toyota Supra Mark 4 JZA8 Free Downloadable PDF Repair Manuals & Service Manuals
Model Years: 1993 to 2002
Chassis Code: JZA8

With the new model of Supra, Toyota took a big leap in the direction of a more serious high-performa... View More Info 1 Workshop Manual Available (See Below)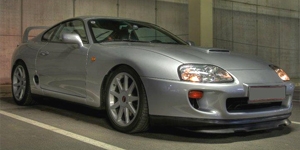 1997 Toyota Supra Mark 4 Workshop Manual
Workshop manual for 1997 Supra Mark 4, detailing all specifications, repair and maintenance information.
Toyota Supra Mark 4 Vehicle Information
With the new model of Supra, Toyota took a big leap in the direction of a more serious high-performance car. Again using subframe, suspension and drivetrain assemblies from the Z30 Soarer (Lexus SC300/400), test model pre-production started in December 1992 with 20 models, and official mass production began in April 1993.
The new Supra was completely redesigned, with rounded body styling and featured two new engines: a naturally aspirated Toyota 2JZ-GE producing 220 hp (164 kW / 223 PS) at 5800 rpm and 210 lb/ft (280 Nm) at 4800 rpm of torque and a twin turbocharged Toyota 2JZ-GTE making 276 hp (206 kW / 280 PS) and 318 lb/ft (431 Nm) of torque for the Japanese version. For the export model (America/Europe) Toyota upgraded the Supra turbo's engine (smaller, steel wheeled turbochargers, bigger fuel injectors, etc.).
This increased the power output to 320 hp (239 kW / 324 PS) at 5600 rpm and 315 lb/ft (427 Nm) at 4000 rpm. The turbocharged variant could achieve 0-60 mph in as low as 4.9 seconds (0-62mph 5.2 sec.) and 1/4 mile (402 m) in 13.3 seconds at 109 mph (175 km/h).
The turbo version was tested to reach over 285 km/h (177 mph) all-stock, but the cars are restricted to just 180 km/h (112 mph) in Japan and 250 km/h (155 mph) elsewhere. European versions also had an air intake on the bonnet. Drag coefficient is .31 for the naturally aspirated models and .32 for the turbo models and N/A's with the rear spoiler.
Source:
Wikipedia