Mazda RX8 SE Free Downloadable PDF Factory Service Manual / Repair Manual
Model Years: 2003 to 2008
Chassis Code(s): SE




3 Workshop Manuals Available (See Below)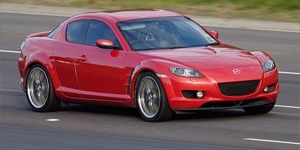 Mazda RX8 (2004) Owners Manual
Owners Manual for Mazda RX8, provides basic maintenance and vehicle information.
Mazda RX8 Workshop Manual
Workshop manual for Mazda RX8, detailing full specifications, repair and maintenance information.
Mazda RX8 Engine Workshop Manual
Engine Workshop Manual for Mazda RX8 Series 1.3L Renesis NL, complete guide to replacing, repairing or rebuilding any part of the engine.