Ford Mustang Repair Manuals & Service Manuals
Model Years: 1994 to 1998
The base Mustang featured Ford's 3.8 L OHV Essex V6 mated to a standard 5-speed manual transmis...
View More Info
1 Workshop Manual Available (See Below)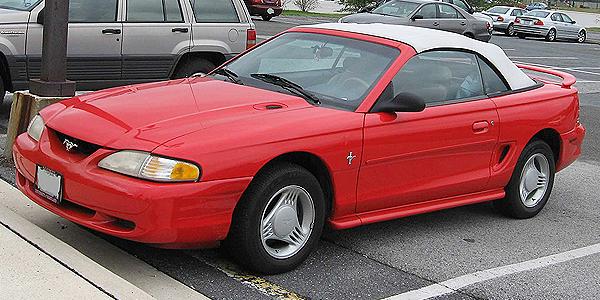 Ford Mustang Workshop Service Manual : 1994 - 1998
Ford workshop service manual for the Ford Mustang built from 1994 to 1998. This manual details all repairs and maintenance details for the mechanical systems including driveline (engine, gearbox and rear differential), suspension systems, braking systems and steering components along with body, chassis and electrical systems including body panels, glass replacement, bumpers, interior components, lighting systems and electrical wiring including wiring diagrams. Diagnostic advice is also provided.
Ford Mustang Vehicle Information
The base Mustang featured Ford's 3.8 L OHV Essex V6 mated to a standard 5-speed manual transmission or an optional AODE 4-speed automatic transmission. The V6 produced 145 hp (108 kW; 147 PS) at 4000 rpm and 215 lb·ft (292 N·m) of torque at 2500 rpm. For 1996, the base V6 gained five horsepower with a new powertrain control module (PCM), the EEC-V. The AODE transmission was replaced with the 4R70W 4-speed automatic transmission for 1996.
A 1994 Mustang convertible and the red interior of a V6 model. Other interior colors such as black and beige were also available.
Ford allocated $700 million to improve the Fox platform for the 1994 Mustang. Efforts were made to improve the car's handling as well as noise, vibration, and harshness (NVH) conditions over the previous generation Mustang. The Mustang's front suspension makes use of MacPherson struts with longer lower control arms, new spindles, anti-roll bars, and other enhancements over 1993 and older Mustangs. In the rear, a four-bar link solid axle is used.[9] The 1994 Mustang's standard rear axle ratio was 2.73:1, though this was later changed to 3.27:1. All Mustangs received standard four-wheel disc brakes, though anti-lock brakes (ABS) were optional.
Source:
Wikipedia