Hyundai Accent / Verna MC Free Downloadable PDF Factory Service Manual / Repair Manual
Model Years: 2005 to 2011
Chassis Code(s): MC


Hyundai introduced a new-generation Accent (MC) at the 2005 New York International Auto Show. A new ...
View More Info
1 Workshop Manual Available (See Below)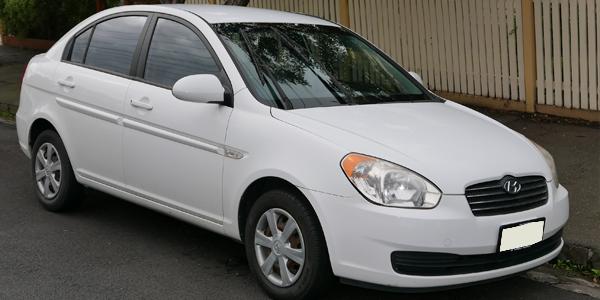 Hyundai Accent Verna Workshop Service Manual : 2005 - 2011 [Chassis: MC]
Hyundai workshop service manual for the Hyundai Accent / Verna built from 2005 to 2011. Covers models with the MC chassis type. This manual details all repairs and maintenance details for the mechanical systems including driveline (engine, gearbox, front axles), suspension systems, braking systems and steering components along with body, chassis and electrical systems including body panels, glass replacement, bumpers, interior components, lighting systems and electrical wiring including wiring diagrams. Diagnostic advice is also provided.
Hyundai Accent / Verna Vehicle Information
Hyundai introduced a new-generation Accent (MC) at the 2005 New York International Auto Show. A new exterior, larger interior, and CVVT engine are the notable features.
A single trim level, GLS, is available in the US for the sedan. This sedan includes 6 airbags, air conditioning, power steering with tilt, with optional four-wheel disc antilock brakes with electronic brake-force distribution, and a 6-speaker CD stereo. A premium sport package includes air conditioning, 15-inch alloy wheels, power windows and heated mirrors, and remote power door locks. An automatic transmission is also available.
Hyundai began selling the 3-door hatchback in the United States during the spring 2006 as a 2007 model year vehicle. The 3-door is available in two trims – GS and SE. The GS is equipped much like the GLS sedan, with some equipment deleted for a base price of US$10,415. The GS also has a retuned steering rack versus the comfort biased GLS sedan. The SE replaces the former Accent GT, offering a sport-tuned suspension (such as "24 percent stiffer front spring rate, an 11 percent stiffer rear spring rate, a larger stabilizer bar (24 mm) and unique strut valving"), B&M manual shifter as standard, 16 in. alloy wheels, and other sporting features, along with available dealer-installed performance parts such as a cold-air intake and suspension stress bar.
Source:
Wikipedia