Hyundai Elantra / Lantra J1 Free Downloadable PDF Factory Service Manual / Repair Manual
Model Years: 1990 to 1998
Chassis Code(s): J1


Launched in October 1990, the Elantra (codename J1) received a mid-term facelift in 1993. It was ...
View More Info
1 Workshop Manual Available (See Below)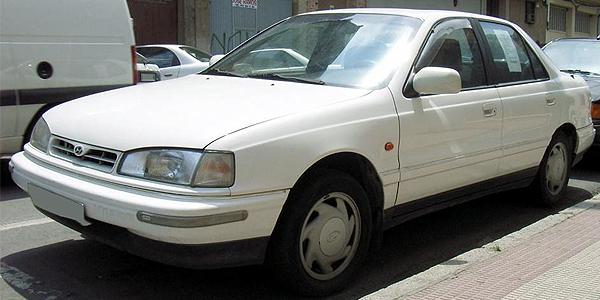 Hyundai Elantra Lantra Workshop Service Manual : 1990 - 1998 [Chassis: J1]
Hyundai workshop service manual for the Hyundai Elantra / Lantra built from 1990 to 1998. Covers models with the J1 chassis type. This manual details all repairs and maintenance details for the mechanical systems including driveline (engine, gearbox, front axles), suspension systems, braking systems and steering components along with body, chassis and electrical systems including body panels, glass replacement, bumpers, interior components, lighting systems and electrical wiring including wiring diagrams. Diagnostic advice is also provided.
Hyundai Elantra / Lantra Vehicle Information
Launched in October 1990, the Elantra (codename J1) received a mid-term facelift in 1993.
It was sold in Europe from the spring of 1991. It replaced the somewhat larger on the outside Stellar, although that model had not been offered in many markets. The Elantra competed with the likes of the Ford Sierra and Vauxhall Cavalier/Opel Vectra, but at a considerably lower price.
The Elantra was powered by a Mitsubishi-designed 1.6 L (1595 cc) straight-four. This DOHC 16-valve 1.6 L unit produced 113 hp (84 kW) at 6000 rpm and could push the Elantra to 60 mph (97 km/h) in 9.5 seconds. The quarter-mile (0.4 km) run took 17.1 seconds and produced 80 mph (129 km/h). Top speed was 116 mph (187 km/h). The Elantra got 22 mpg-US (11 L/100 km) in the city cycle. Starting in 1993 a Mitsubishi-designed 1.8 L (1836 cc) inline-four option was available; this unit produces 124 hp (99 kW) at 6000 rpm.
The vehicle was refreshed in 1992 for the European market, adding Hyundai's current logo to the grille, although North American models retained the previous year's look. In 1993, the vehicle was refreshed again. The third (second in North America) and final facelift of this generation occurred in 1994 for both front and rear fascias. The vehicle featured ABS brakes, front airbags, fog lamps, power-operated side mirrors, and optional alloy seven-spoke wheels.
Between 1995 to 1998, the first-generation Elantra was also produced and sold for the Indonesian market as the Bimantara
Source:
Wikipedia