Toyota Dyna Truck Free Downloadable PDF Factory Service Manual / Repair Manual
Model Years: 1984 to 1995
Chassis Code(s): Truck


U60 / Y50 Series 5th-generation BU also available as a 4-door cab with ute tray in Australia 2 ...
View More Info
1 Workshop Manual Available (See Below)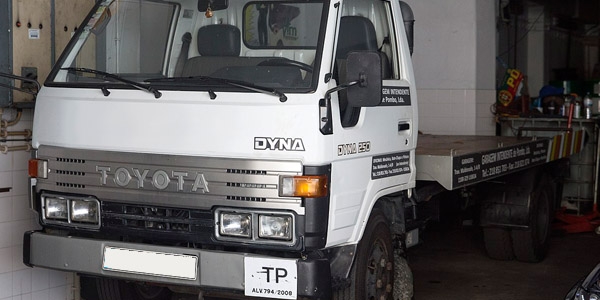 Toyota Dyna Truck Factory Service Manual
Toyota Dyna Truck factory service manual for model year vehicles between 1984 and 1995. The type of information contained in this workshop repair manual include general servicing, maintenance and minor repairs, advanced repairs and rebuild guides. Topics include Engine, Gearbox, Differential, Suspension, Steering, Brakes, Interior Fittings, Exterior Fittings, Body Panels and Electrical Systems with wiring diagrams.
Toyota Dyna Vehicle Information
U60 / Y50 Series
5th-generation BU
also available as a 4-door cab with ute tray in Australia
2 – 3.5 tonner
U60 – 90 Series (1984–1994) The first BU-series (Dyna 200/300/400, 1984–88) used quad round headlights. 1989 onwards models had quad rectangular headlights and one piece door glass with new interior door trim & other minor interior changes. All wide cab models had a centrally mounted roof vent and had 3 windscreen wipers. 3.4-litre 3B, 3.4-litre (direct injected) 13B and 3.7-litre 14B diesel engines with direct injection were used in the Dyna 200 and Dyna 300, a 5-speed gearbox was standard. The Dyna 300 was equipped with an exhaust brake. Front, ventilated twin piston disc brakes were optional on the first series wide cab Dyna 300. In Portugal, the 3B-engined Dyna 250 (BU84) was assembled locally.
1 – 1.5 tonner
Y50 & 60 Series (1985–1995) The lighter Dynas used smaller engines. Portugal's Salvador Caetano assembled the LY60 Dyna as the 150, using Toyota's 2L engine, a 2446 cc diesel inline-four.
Source:
Wikipedia