Renault Clio Clio 2 / Clio II Free Downloadable PDF Repair Manuals & Service Manuals
Model Years: 1998 to 2005
Chassis Code: Clio 2 / Clio II

The second generation of the Clio was launched on 9 March 1998 and sold for less than €8,000, w... View More Info 1 Workshop Manual Available (See Below)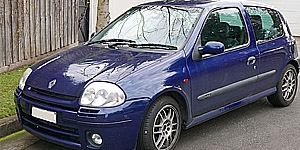 Renault Clio Factory Service Manual For Engine (1998 to 2005)
Factory service manual for the Renault Clio, also known as the Clio 2 / Clio II, built between 1998 and 2005. Covers all mechanical repairs, maintenance and rebuild information regarding the engine and all related mechanical components.
Renault Clio Vehicle Information
The second generation of the Clio was launched on 9 March 1998 and sold for less than €8,000, with considerably more rounded and bulbous styling than its predecessor. Part of the radical concept of the new Clio were many components made of unusual materials to save in weight and repair costs. For instance, the front wings were made of plastic (following criticisms of corrosion in this part of the previous model and based on technology developed for the Renault Espace) and the material of the bonnet was aluminium in some versions. Originally the engine lineup was similar to before, with 1.2 L, 1.4 L and 1.6 L petrol engines and a 1.9 L diesel. The project manager from 1992-98 for the Clio II was Pierre Beuzit.
In early 2000, a sportive 16V version equipped with a new 1.6 L 16-valve engine was introduced, and eventually, all the older petrol engines were upgraded to more powerful and more economical 16-valve versions.
Source:
Wikipedia