Alfa Romeo 155 155 Free Downloadable PDF Repair Manuals & Service Manuals
Model Years: 1992 to 1998
Chassis Code: 155

Built to replace the 75 and based on the parent Fiat Group's Type Three platform, the 155 was s... View More Info 1 Workshop Manual Available (See Below)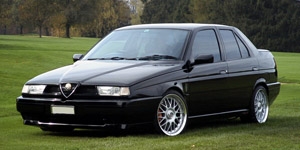 Alfa Romeo 155 Factory Service Manual
Factory service manual for the 1992 to 1998 model year Alfa Romeo 155 vehicles. Covers all base models along with Q4 variants. A complete guide to repair, maintenance, servicing and rebuild of all vehicle components, including engine, gearbox, driveline, chassis, steering, suspension, brakes, electrical systems with wiring diagrams and diagnostics troubleshooting.
Alfa Romeo 155 Vehicle Information
Built to replace the 75 and based on the parent Fiat Group's Type Three platform, the 155 was somewhat larger in dimension than the 75 but evolved its styling from that of its predecessor. The 155 was designed by Italian design house I.DE.A Institute. An exceptional drag coefficient of 0.29 was achieved with the body design. The design of the 155 allowed also big boot space, 525 litres (115 imp gal; 139 US gal).
The single most significant technical change from the 75 was the change to a front-wheel drive layout. This new configuration gave cost and packaging benefits but many Alfa die-hards and the automotive press lamented the passing of the "purer" rear wheel drive layout on a car from this sporting marque.
Also available was the 155 Q4, which had a 2.0-litre (120 in3) turbocharged engine and a permanent four-wheel drive powertrain, both derived from the Lancia Delta Integrale; it was essentially a Lancia Delta Integrale with a different body.
Source:
Wikipedia