Renault Laguna Laguna 2 Free Downloadable PDF Repair Manuals & Service Manuals
Model Years: 2001 to 2007
Chassis Code: Laguna 2

After almost seven years in production the original Laguna was replaced by an all new model in Decem... View More Info 1 Workshop Manual Available (See Below)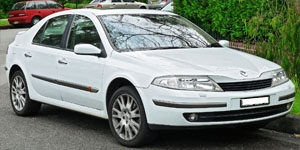 Renault Laguna 2 Factory Service Manual
Factory service manual for the Renault Laguna 2 / Laguna II series cars produced between 2001 and 2007. Covers all aspects of the vehicle, a complete maintenance, servicing and rebuild guide for all components. Includes Engine, Clutch, Gearbox, Driveline, Steering, Suspension, Brakes, Body Panels, Interior components, and electrical systems including wiring diagrams and troubleshooting guides / diagnostic information.
Renault Laguna Vehicle Information
After almost seven years in production the original Laguna was replaced by an all new model in December 2000, which shared its chassis with the Nissan Primera (which arrived a year later). The engines were upgraded, and the equipment list made longer. It was the first vehicle available in Europe to achieve five stars in the EuroNCAP crash test results, a feature which was soon followed by all other models in Renault's range. This generation was made available in liftback or estate (Grandtour) styles only.
The Laguna was the first European family car, and the second European car to feature "keyless" entry and ignition. Instead of a key, it used a credit card style device to unlock the car and start the engine. The styling of the second generation Laguna was heavily influenced by the Initiale concept car. The Laguna II won the title Semperit Irish Car of the Year in 2002.
The Laguna estate was only available with five seats, unlike the previous model which had seven seats as an option on some versions. It was badged as Sports Tourer or Grandtour, depending on the country. It was also marketed as a lifestyle vehicle, rather than a load carrier.
Source:
Wikipedia