Audi A6 C4 Typ-4A Free Downloadable PDF Factory Service Manual / Repair Manual
Model Years: 1994 to 1997
Chassis Code(s): C4 Typ-4A


Audi's executive car was previously named the Audi 100 (or Audi 5000 in the United States), and...
View More Info
1 Workshop Manual Available (See Below)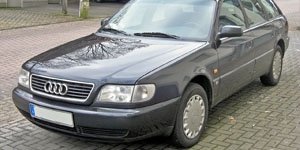 Audi A6 C4 Factory Service Manual (1994 to 1997)
Factory service manual for the Audi A6, Chassis code C4, Typ 4A, built between 1994 and 1997. Covers all aspects of vehicle maintenance, repair and rebuild guides, for engine, gearbox, differential, steering, suspension, brakes, exterior body, interior fittings and electrical components including wiring diagrams, troubleshooting and diagnostics.
Audi A6 Vehicle Information
Audi's executive car was previously named the Audi 100 (or Audi 5000 in the United States), and was released in three successive generations (Audi C1, Audi C2 and Audi C3).
In 1994, the latest generation (C4) of the Audi 100 received a facelift and was renamed as the Audi A6, to fit in with Audi's new alphanumeric nomenclature (as the full-size A8 had just been introduced). The exterior was changed only slightly from the "C4" Audi 100 – new front and rear lights, new radiator grille, similarly with chassis and engine and transmission choices. The United Kingdom was the first market to receive the A6, as stock of RHD Audi 100s had run out before expected, and before the rest of mainland Europe.
The new engines for the A6 were 1.8-litre 20v inline four-cylinder, 2.0-litre 8v inline four-cylinder, 2.6-litre 12V V6 and 2.8-litre 30v V6 petrol engines, with the 2.3-litre inline five engine being dropped on most markets. For the diesel engines, an inline four 1.9 Turbocharged Direct Injection (TDI), and the inline five (R5) 2.5 TDI (103 kilowatts (140 PS; 138 bhp)) were available.
Until 1997, the A6 came with several different engines, two of them turbodiesel, and most of them available with Audi's Torsen-based quattro permanent four-wheel drive system. The A6 was available with saloon and Avant bodies.
Source:
Wikipedia