Hyundai Getz Generation 2 Free Downloadable PDF Repair Manuals & Service Manuals
Model Years: 2006 to 2011
Chassis Code: Generation 2

The Hyundai Getz is a supermini car produced by the South Korean manufacturer Hyundai from 2002 to 2... View More Info 1 Workshop Manual Available (See Below)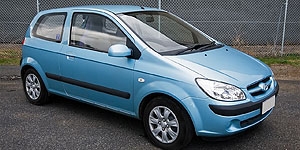 Hyundai Getz Factory Service Manual (2006 to 2011)
Factory service manual for the Hyundai Getz vehicles built between 2006 and 2011. Covers all aspects of repair, maintenance and rebuild requirements for the engine, gearbox, suspension, steering, front axle, brakes, body panels, interior fittings, exterior fittings, electronics systems including electrical components and wiring diagrams, also explains methods of troubleshooting.
Hyundai Getz Vehicle Information
The Hyundai Getz is a supermini car produced by the South Korean manufacturer Hyundai from 2002 to 2011. It was marketed worldwide, except in the United States, Canada and China, in three and five-door hatchback body styles.
The Getz has also been marketed as the Hyundai Click in South Korea, Hyundai Getz Prime in India, Hyundai TB (for "Think Basic") in Japan, Inokom Getz in Malaysia, or Dodge Brisa in Venezuela.
After the launch of its successors, the i20 (2008) in Europe and Accent RB (2010) in South Korea, the Getz continued to be marketed worldwide—although production finally ended in 2011.
Source:
Wikipedia