Kia Mentor / Sephia Generation 1 Free Downloadable PDF Repair Manuals & Service Manuals
Model Years: 1992 to 1997
Chassis Code: Generation 1

The first-generation Kia Sephia is the first car that was actually designed by Kia with their own ch... View More Info 2 Workshop Manuals Available (See Below)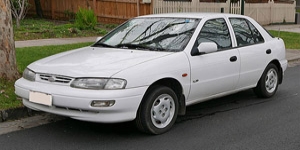 Kia Mentor / Sephia 1996 Factory Service Manual
Factory service manual for the 1992 to 1997 series Kia Mentor (also known as the Sephia). Covers all repairs including maintenance, rebuild and repair guidelines for engine, transmission, front axle, suspension, brakes, body panels and interior components.
Kia Mentor / Sephia 1996 Factory Electrical System Service Manual
Factory Service Manual for the 1992 to 1997 Series Kia Mentor / Sephia. Includes full wiring diagrams, electrical component information and diagnostic information for the electrical systems of this vehicle. For other non-electrical repairs, use the Factory Service Manual, also available on this page.
Kia Mentor / Sephia Vehicle Information
The first-generation Kia Sephia is the first car that was actually designed by Kia with their own chassis. Engines available were the B-series engines, with the 1.5-liter rated at 59 kilowatts (79 hp), the 1.6-liter 78-kilowatt (105 hp), and the 1.8-liter BP engine at 91-kilowatt (122 hp) from 1994. The car was presented in September 1992 to replace the aging Capital, which was rapidly losing market share. The Sephia proved quite successful, selling over 100,000 in its first full year in the home market (1993).
Source:
Wikipedia