Isuzu Rodeo TF Free Downloadable PDF Factory Service Manual / Repair Manual
Model Years: 1988 to 2002
Chassis Code(s): TF


Isuzu Rodeo (Japan,Thailand *4WD only), Isuzu Faster-Z (Thailand), Isuzu Dragon Eyes (Thailand), Isu...
View More Info
1 Workshop Manual Available (See Below)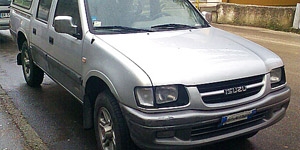 1988 to 2002 Isuzu Rodeo TF Factory Service Manual
Factory Service Manual for the Isuzu Rodeo TF series Utility Vehicle produced between 1988 and 2002. Covers all aspects of vehicle repair, maintenance and rebuild information for engine, driveline components, transmission, differential, brakes, suspension, steering along with body panels, interior components, electrical systems and electronics wiring diagrams. A complete guide to all aspects of repair and maintenance for the Isuzu Rodeo TF.
Isuzu Rodeo Vehicle Information
Isuzu Rodeo (Japan,Thailand *4WD only), Isuzu Faster-Z (Thailand), Isuzu Dragon Eyes (Thailand), Isuzu Dragon Power (Thailand), Isuzu Fuego (Philippines), Isuzu Invader (Sabah), Isuzu Ippon (Israel), Isuzu KB (South Africa), Isuzu Pickup (North America), Isuzu TF, Isuzu TFR (Thailand), Isuzu TT Fortigo, Chevrolet LUV, Chevrolet T-Series (Egypt), Holden Rodeo, Honda Tourmaster (Thailand), Opel Campo, Vauxhall Brava (United Kingdom), Bedford Brava (United Kingdom), Foton Aoling T-Series (China), Jinbei SY10 (China), JiangLing Baodian (China), JiangLing Hunter (Philippines)
Source:
Wikipedia