Kia Sedona / Carnival Generation 1 Free Downloadable PDF Repair Manuals & Service Manuals
Model Years: 1998 to 2006
Chassis Code: Generation 1

The first generation Kia Carnival model was manufactured and marketed differently for specific regio... View More Info 1 Workshop Manual Available (See Below)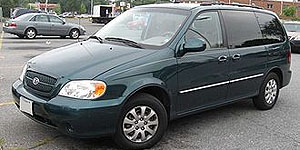 1998 to 2006 Kia Carnival / Sedona Factory Service Manual
Factory service manual for the 1998 to 2006 series Kia Carnival, also known as the Kia Sedona and Naza Ria in Malaysia. Covers all aspects of vehicle repair including mechanical diagnostics, rebuild information and wiring diagrams. Covers engine rebuild details, transmission, driveline, suspension, brakes, electrical components along with body / panels and interior components. A complete guide to repairing and maintaining the vehicle.
Kia Sedona / Carnival Vehicle Information
The first generation Kia Carnival model was manufactured and marketed differently for specific regions, including under a joint venture in the Chinese market with Dongfeng Yueda Kia Automobile Company, as well as the Naza Ria in Malaysia.
Source:
Wikipedia