Ford Mondeo Mk I Repair Manuals & Service Manuals
Model Years: 1992 to 1996
Chassis Code: Mk I

Instigated in 1986, the design of the car cost Ford US$6 billion. It was one of the most expensive n... View More Info 1 Workshop Manual Available (See Below)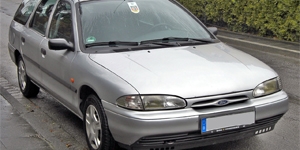 First Generation MK1 Ford Mondeo Owners Manual
Factory owners manual for the ford contour, better known worldwide as the Ford Mondeo, this manual is suitable for MK1 versions, produced between 1992 and 1996.
Ford Mondeo Vehicle Information
Instigated in 1986, the design of the car cost Ford US$6 billion. It was one of the most expensive new car programmes ever. The Mondeo was significant as its design and marketing was shared between Ford USA in Dearborn, and Ford of Europe.[4] Its codename while under development reflected thus: CDW27 signified that it straddled the C & D size classes and was a "world car".
Source:
Wikipedia