Toyota Hilux N50 Free Downloadable PDF Repair Manuals & Service Manuals
Model Years: 1988 to 1998
Chassis Code: N50

The next redesign, in 1988, produced a longer-wheelbase option, 3,099 mm (122 in) rather than 2,616 ... View More Info 1 Workshop Manual Available (See Below)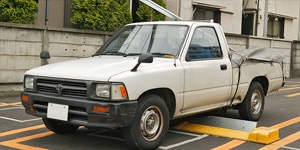 Toyota Hilux N50 Factory Workshop Manual
Complete Factory Workshop Manual for the N50 Toyota Hilux (1988 to 1998). Covers all aspects such as engine, transmission, differential, overhaul and maintenance guides, braking system, suspension, steering, interior and exterior component repair and replacement along with full wiring diagrams. A complete guide to the entire vehicle.
Toyota Hilux Vehicle Information
The next redesign, in 1988, produced a longer-wheelbase option, 3,099 mm (122 in) rather than 2,616 mm (103 in) for the regular wheelbase. Its one-piece cargo-box walls eliminated the rust-prone seams that were found in earlier models. The V6 Xtracab SR5 earned Motor Trend magazine's Truck of the Year award that year. The Xtracabs now featured more room behind the front seats than the last generation which allowed optional jump-seats for rear passengers, a feature more in line with competitors of the time.
In 1991, American production began at the NUMMI plant in Fremont, California (the VIN on these cars starts with '4T'), however some trucks sold in the United States during the 91-95 model years were still manufactured in Japan (VIN starts with 'JT').
The Hilux received a minor facelift in the 1991 model year, primarily a minor grill change and the new Toyota emblem that had been recently adopted.
Source:
Wikipedia