Holden Jackaroo Repair Manuals & Service Manuals
Model Years: 1998 to 2002

Beginning in 1998, the Holden Jackaroo (known overseas as the Isuzu Trooper) was equipped with a DOH... View More Info 1 Workshop Manual Available (See Below)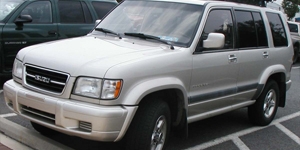 1998 - 2002 Holden Jackaroo Workshop Manual
Complete factory workshop manual for the 1998 - 2002 Model Isuzu Trooper (Known in Australia as the Holden Jackaroo). Contains specifications, repair guides, maintenance information, diagnostics procedures and wiring diagrams.
Holden Jackaroo Vehicle Information
Beginning in 1998, the Holden Jackaroo (known overseas as the Isuzu Trooper) was equipped with a DOHC 3.5 L engine producing 215 hp (160 kW; 218 PS). Also on offer was an option for the diesel engine, the 4JG2 3.1 L (later superseded by the more problematic 4JX1 3.0 L of 159 PS/117 kW).
A Borg-Warner torque-on-demand all-wheel-drive system was introduced, along with freshened styling. The grille was redesigned again for the 2000 model year.
Source:
Wikipedia