BMW 5 Series E34 Free Downloadable PDF Repair Manuals & Service Manuals
Model Years: 1989 to 1996
Chassis Code: E34

The BMW E34 is the version of the BMW 5 Series automobile built from February 1988 to 1995 with the ... View More Info 1 Workshop Manual Available (See Below)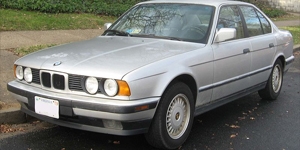 BMW E34 5 Series Workshop Manual
Workshop manual covering E34 series 525i, 530i, 535i and 540i models. Full specifications, repair and maintenance guides.
BMW 5 Series Vehicle Information
The BMW E34 is the version of the BMW 5 Series automobile built from February 1988 to 1995 with the Touring model ending June 1996. It replaced the BMW E28 in 1988 and was replaced by the E39 in 1996.
In the North-American market the E34 succeeded the BMW E28 in May 1988 with two models. The 525i used the BMW M20 engine while the 535i used the larger M30. The cars were a blend of BMW tradition and modern technology. BMW's traditional FR layout and straight-6 were used, providing the smooth engine and optimal weight distribution BMW customers had come to expect. New 5-series also had a much stiffer body and was more streamlined than its predecessor, and had design cues introduced in 1986 7-series.
The E34 was among the most reliable luxury cars on the market, earning the best-in-class ratings from Intellichoice in 1991, and still considered one of the most reliable BMWs ever made. It was also one of the safest cars on the road during its production, providing airbags, 4-wheel anti-lock brakes, and a very rigid body structure to protect occupants in the event of an accident. It was also equipped with automatic stability control (ASC) or traction control (ASC+T) in later years on higher-specification variants.
Source:
Wikipedia