Toyota Supra Mark 2 MA6 GA6 Free Downloadable PDF Repair Manuals & Service Manuals
Model Years: 1982 to 1986
Chassis Code: MA6 GA6

In late 1981, Toyota completely redesigned the Celica Supra as well as the entire Celica lineup for ... View More Info 1 Workshop Manual Available (See Below)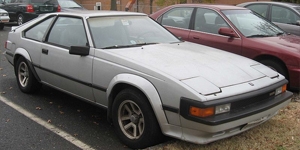 1986 Toyota Mark 2 Supra Workshop Manual
Workshop manual for 1986 Supra Mark 2, detailing all specifications, repair and maintenance information.
Toyota Supra Mark 2 Vehicle Information
In late 1981, Toyota completely redesigned the Celica Supra as well as the entire Celica lineup for its 1982 production year.
In Japan, they were known as Celica XX, but everywhere else the Celica Supra name was used. Still being based around the Celica platform, there were several key differences, most notably the design of the front end and fully retractable pop-up headlights.
Other differences would be the inline-6 still present in the Supra instead of the inline-4 as well as an increase in length and wheelbase to conform with the overall larger engine. Toyota's continued market competition with Nissan is shown by the Supra's use of a rear hatch sun shade to avoid the louvres popularly associated with the Z car.
Due to an increase in the Supra's width, it was no longer regarded as a "compact" under Japanese dimension regulations.
Source:
Wikipedia