Ford Mondeo Mk II / Mark 2 / HE (Australia) Repair Manuals & Service Manuals
Model Years: 1996 to 2000
Chassis Code: Mk II / Mark 2 / HE (Australia)

Mk II (facelift) The Mondeo facelift, launched in October 1996 seeing three of the original Monde... View More Info 1 Workshop Manual Available (See Below)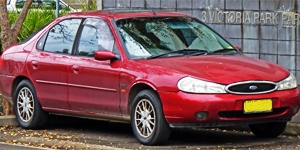 Second Generation MK2 Ford Mondeo Owners Manual
Factory owners manual for the ford contour, better known worldwide as the Ford Mondeo, this manual is suitable for MK2 versions, produced between 1996 and 2000.
Ford Mondeo Vehicle Information
Mk II (facelift)
The Mondeo facelift, launched in October 1996 seeing three of the original Mondeo's biggest criticisms addressed: its bland styling, the poor headlight performance, the reflectors of which quickly yellowed and the cramped rear legroom. The lowering of specification levels around that time (e.g. air-conditioning and alloy wheels became optional on the UK Ghia models) may have indicated a desire by Ford to cut costs and recoup some of the considerable sums invested in the original design. These specification levels were improved again in 1998 as the Mondeo approached replacement.
Source:
Wikipedia